We will be talking to every day people, who have had their lives changed by a traumatic event, Brain Injury, divorce, loss of a loved one, anything where having an IronWill was the only choice they had. We will learn from their struggles and how they overcame the hard times. We will learn how having an IronWill has changed them and molded them into who they are today. This podcast is about growth, and always being willing to learn, and to grow as a human being.
What People Say
"Thanks for being in my corner, Brother. I love what you're doing."

Seth Howland
"What an honor and a good chat I had on IronWill Podcast!"

Chris Mason
"Looking death in the face changed us, gave us the will to influence the recovery of the broken. Giving up is not an option."

Judy G.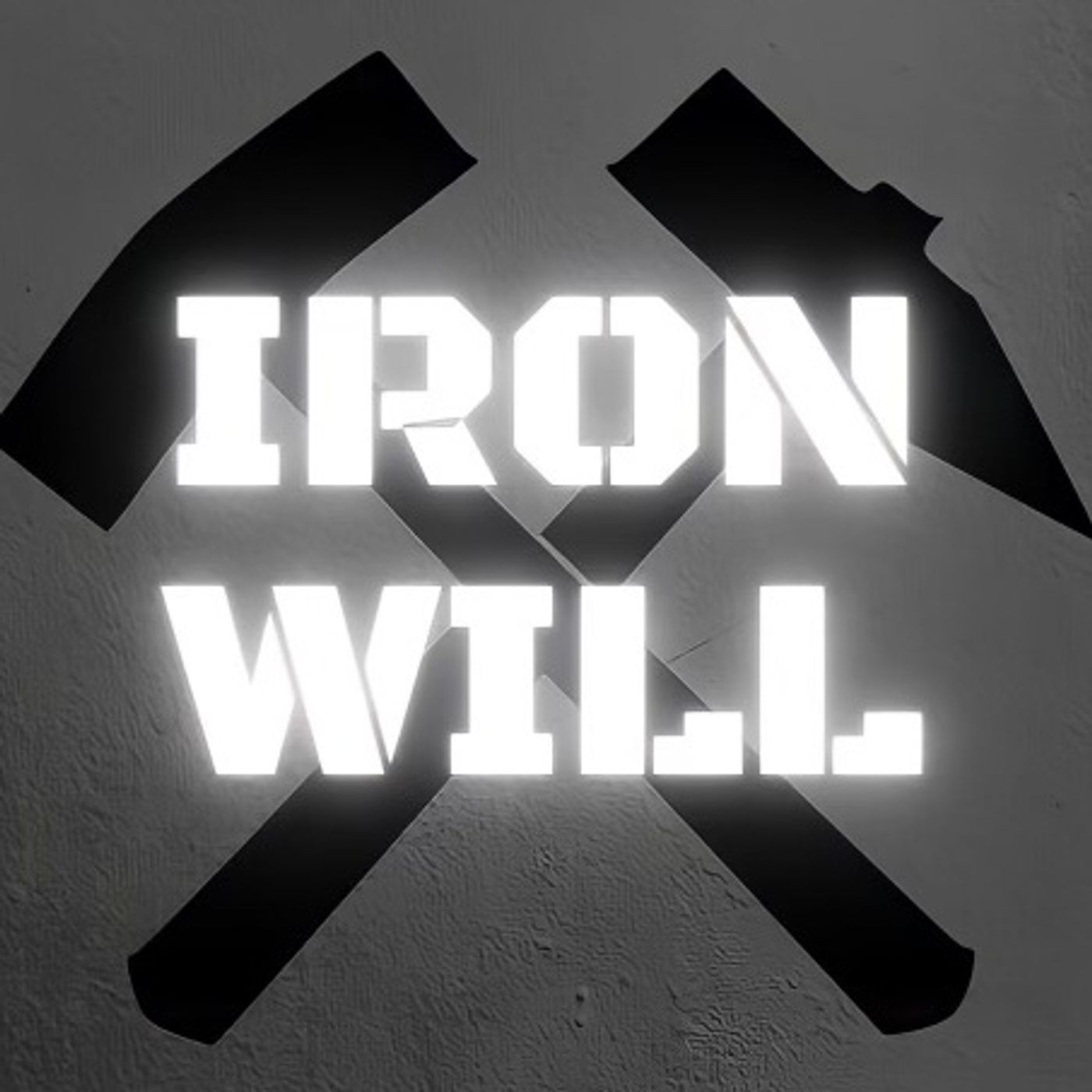 57: "Make Your Bed" With Todd Nielsen
–
IronWill
Today on the IronWill podcast we sit down with Todd Nielsen of Nielsen Training And Consulting. Todd talks about his time on the police force where he was involved with numerous human trafficking cases and the challenges he had to deal with as a result. This was a really good episode that I feel a lot of people can learn from and gain new respect for what these officers go through on a day to day basis. You can listen to this podcast on our website
http://www.IronWill.us
or on your favorite podcast platform.
Meet Team IronWill
Just click the link bellow the pictures to listen.
1: Shane Warner
Shane tells what happened to him when he suffered his brain injury. He tells what it was like in the hospital, and in rehabilitation. And also talks about what it takes to develop an IronWill. @shanewarner54 on instagram Warner Shane on Facebook
2: Judy Godsey
Oh man I'm super excited about today's guest. Her name is Judy Godsey aka @JudyDeadlifts on instagram. She is the reason I even tried to deadlift after my Brain injury, Judy is a brain injury survivor, so we have that in common. And it was really awesome to talk with her. Music by @Seth_adam_bonnell on instagram. Thanks for letting me use it brother.
3: Sean Costello
Sean is a spinal cord injury survivor, but he is so much more. Listen to this motivational story and let him inspire you. @costello513 on instagram Sean Costello on Facebook
4: Jon Chase
Jon Chase is my personal trainer and cohost, he had a rough childhood that made him develop an IronWill.
This was actually the first podcast we ever made, we ran into some audio problems that needed fixing. He is @chase_movement on Instagram go follow him for work out ideas.
5: Knives Monroe
A really good conversation with my friend Knives Monroe, we talk about his experiences growing up in Donna Texas and then being homeless "by choice". Knives is a humble person that definitely has an IronWill.
6: Seth Howland
We talk to Seth about growing up in Maine, joining the army, and the marines. Battling alcoholism, and having type 1 diabetes. Seth's story is a true example of IronWill, and grit.
7: Hannah Morales
On this episode of the IronWill podcast, Jon Case and I talk to Hannah Morales. Hannah suffered a traumatic brain injury while competing for Lindsey Wilson college in cycling. But she hasn't let that stop her from pursuing her dream of becoming a doctor. We can all learn a lesson from this amazing human being on what it means to have an IronWill!
8: Doug Myers
On this episode of the IronWill podcast, we talk with Doug Myers a 20 year Army vet. We discuss, his deployment to Iraq where he suffered multiple concussions, we talk about his divorce, and becoming a drill sergeant. We also talk with him about getting married this time to the right person, and his deployment to Afghanistan, where he served as a platoon sergeant. So come on and listen as he discusses his highs and lows of serving the United States Army.
9: Cassie Wishard
Kassie Wishard is a respiratory therapist. On this episode of the IronWill podcast we find out what Kassie went through to get there. She has an awesome story, filled with trials that she has overcome…not to mention she is one of the nicest people we've talked with. So if you want a feel good story, this is the podcast for you.
10: Kevin Hooker
On this episode of the IronWill podcast Jon Chase and I sit down with Kevin Hooker and talk to him about what it's like growing up with Exstrophy of the bladder, caused by agent orange. Kevin's Dad served our country in Vietnam where he was consistently exposed to agent orange. Kevin was born on June 25th 1970, and since the day he was born he has been battling this disease. 70 surgeries later, he is still getting after it and helping others to overcome their struggles. It was an honor to talk to Kevin and find out what gives him strength. He is a example of IronWill that everyone can learn from.
11: Matthew Möyer
Jon Chase and I had the opportunity to sit down and talk to Matthew Möyer, where he told us about his 6 years, and 3 deployments while serving in the Marine Corps. On his 3rd deployment Matthew fell out of the back of a 7 ton and landed on his back. We talked about the complications that fall left him with, and what he did to overcome those problems. It's an awesome story of determination and IronWill, that I think everyone out there can learn from.
12: Lori Warner
Jon Chase and I had a very special guest on this episode of the IronWill podcast, my Mom, Lori Warner. We talked about when I suffered my traumatic brain injury, It was a therapeutic conversation for me and her. I was able to understand better what that experience was like for her, and I learned some new things about my time in the hospital. If you have the chance to sit down and talk with a loved one, do it, don't wait. Let them know how you feel about them. I love you Mom.This is some content about Lori Warner.
13: Scott Malone
Scott Malone is a 7 year Army veteran that has received 2 Purple Hearts after 2 deployments to Iraq. Jon Chase and I where able to talk with Scott about his injuries, and find out what he went through in his recovery. We asked what he is doing now, and what his plans are for the future. Scott was recommended by Kassie Wishard who was on the podcast episode #9. Thank you to Kassie for recommending him, and if anyone out there knows of someone that exemplifies what it means to have an IronWill please let us know. You can have them email me at shawarn@gmail.com
14: Chris Mason
Jon Chase and I had the pleasure of speaking with Chris Mason We talked to him about his time in the Air Force, and serving as a police officer in the LAPD. He told us about his career ending injury, what the recovery was like, and how he transitioned into becoming a personal trainer and competing as a body builder. But most importantly we talked about his service to our country, the city of Los Angels and the impact he has on the lives of so many people. He told us the things he is most grateful for and what keeps him motivated. I hope everyone gets the chance to learn from Chris, he is really a great guy.
You can follow Chris on instagram @chrismasonfitness and on Facebook Chris Mason-Fitness
15: Denzil Dickson
John Chase and I sit down with Denzil Dickson and have a great conversation about life and, what battling bladder cancer has been like for him. We ask him about his family and the effects it has had on them. He talks about what he is doing to combat the effects of chemotherapy and the power of a positive attitude. Denzil is a super motivated person, it was an honor to have the chance to talk to him.
Stay connected with Denzil by following him on instagram @sonofforde
16: Jesse Munch
Jessy Munch is a traumatic brain injury survivor.
Shane Warner and Jon Chase sat down with Jessy, she told them about the times she learned a lot about herself and a lot about IronWill.What do I mean? Well, there was the time that she learned the lesson of responsibility. She dropped out of high school and moved in with her boyfriend, then she realized that her life was not going how she wanted it to. She packed her stuff and moved back with her parents. She got her GED and went to college.Or the time that she learned empathy. That lesson, is when she suffered a traumatic brain injury and Diffuse Axonal, while riding her dirt bike at a local track. She went over a jump and collided in the air with another rider. Jessy's son was born with Chiari malformation, a few years before her accident. He always needs a routine and she never really understood why. But after her brain injury she can relate to her son a lot better.So pull up a chair and listen to this IronWill story.You can follow her on instagram @jessymunch82617 and check out her blog at http://www.jessymunch826.com
17: Missy Blake
This week on the IronWill podcast Shane Warner and Jon Chase sit down with Missy Blake and have a conversation about the lessons she has learned throughout her life and how she is dealing with her PTSD. Missy is an attempted rape, murder survivor. While in Spain serving in the Air Force, she was put in a very bad situation, that she was forced to fight her way out of.Right then and there she decided that she was going to start living, she realized that life could be short so she wanted to take advantage of it, while she still could.Missy is an avid traveler, she has been traveling all around the world with her 3 daughters, 1 of them travels with her in spirit. She has a goal of running a marathon on all 7 continents. Missy is the epitome of what it means to have an IronWill.Check her out on Facebook, Missy H. Blake and on Instagram @living_with_hope
18: Dakota Meyer
Shane Warner and Jon Chase had the opportunity to sit down with Dakota Meyer. Dakota is a Medal of Honor recipient, but that's not what defines him. We talked to Dakota about training to be a firefighter, having a beer with the president and his continued efforts to make the world a better place. It is important to Dakota to be what people need him to be. He is proud of his daughters, Sailor and Atlee Bay and loves spending time with them. He has an amazing story of IronWill. So sit back and listen on www.ironwill.us or your favorite podcast platform.You can also follow Dakota on Facebook, Dakota Meyer and instagram @dakotameyer0317 or listen to his podcast Front Toward Enemy.
19: Heath White
Shane Warner and Jon Chase had the opportunity to sit down and talk with Heath White on the IronWill podcast. They talked to him about joining the Air Force after going to college. They talked to him about his kids and the challenge of being the parent of down syndrome child. Heath is a marathon runner, and has pushed Paisley in a cart in multiple marathons. Heath is an inspirational person who excels in all that he does and he motivates everyone around him to get after it. Follow Heath on Facebook, Heath White. Or crazy sisters cattle Company
21: Cam Heelis
On this episode of the IronWill podcast Shane Warner and Jon Chase interview Cam Heelis Jon's first guest. He is a Cancer Survivor with an amazing story. Cam tells them about his lds mission and when he was diagnosed with cancer. He tells them about his family and his plans for the future. Cam definitely has an IronWill. You can listen on http://www.ironwill.us or your favorite podcast platform.
22: Aaron Guyett
Shane Warner and Jon Chase sit down with Aaron Guyett on this week's episode of the IronWill podcast. They talk to him about him about growing up in Idaho, joining the Marine Corps and so much more. This episode was a really fun one to record, Aaron has such a fun personality and was a pleasure to talk to him. Check this episode out on http://www.ironwill.us or your favorite podcast platform. Follow Aaron at @aaronguyett on instagram and Aaron Guyett on Facebook
23: Nate Lytle
Shane Warner and Jon Chase sit down with Nate Lytle and talk to him about his time in the Coast Guard, getting out and trying to open a church. Unfortunately he suffered a traumatic brain injury on June 4th 2007 when he fell off the top rung of a 10ft ladder. He told us what he went through in his recovery and what he is doing now to give back. There is a lot we all can learn from Nate's story. Listen to this podcast on http://www.ironwill.us and check out Nate's business account out on Facebook More God: Seeing The Blessings Through The Pain
Listen on www.ironwill.us or your favorite podcast platform.
---
Let's conquer together
---